Welcome.
American Pride Magazine and A.V.A Live Radio have just collaborated on an awesome new exposure package for indie Artists.
THIS IS THE OFFICIAL EXPEDITED SIGN UP PAGE THAT WILL TELL YOU ALL ABOUT the opportunity, STATS AND HOW TO GET STARTED TODAY.
RADIO airplay
This opportunity includes:
 
A.V.A Live Radio airplay for you latest single
 

worldwide exposure on our station and network to 6 millions listeners
 

featured article on American Pride Magazine website
 

music announcement on the A.V.A Live Radio Main website
 

Social media funnel to advertise your music brand to multiple twitter, facebook and instagram pages.

PLAYLISTS
We will add your featured single to our most popular playlists on Spotify & Soundcloud sitting alongside popular trending artists who match your genre and vibe.
We also send a special press release about your music out to our affiliated stations, music magazines and blogs. You will also be promoted to a wide range of industry professionals who we have developed relationships with from festival agents to sync licensing companies.
Independent artists getting played right now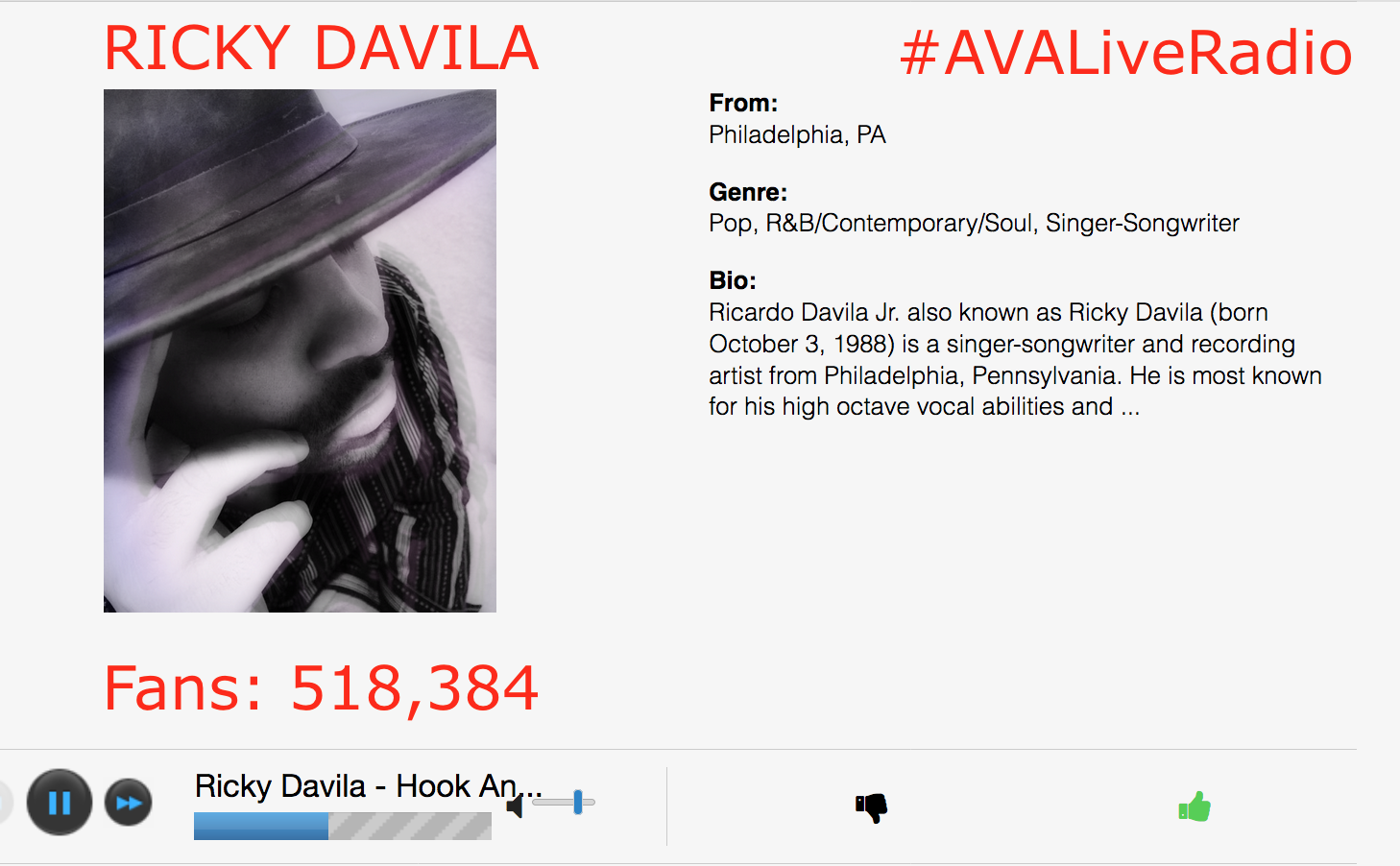 DISCOVERY & STATS
You can see and hear your song live on air through our Stitcher App.
http://www.stitcher.com/s?fid=92017
You will also be tagged on social media with every post to engage with the fans and connect in real time.
 
SOCIAL MEDIA:
48 facebook page eco-system, 6 twitter (87 affiliated), instagram feature pages, linkedin, google plus. We tag your account everywhere you have one with a special #Hashtag designated to you.
SALES BOOST:
Merchandise group pages will also be available to you so you can boost your merchandise sales by posting your gift packages or for sale items from music downloads to t-shirts. We will help you shape your facebook adds to increase your level of exposure and sales.
Step 1: Submit the fee for your exposure series

(A.V.A Live Radio Airplay + American Pride magazine article + social media spin+ press release)
 
STEP 2: Check your email for the pre-interview info to get started today.
 
STEP 3: Send in the items we need: music, photo, links.
 
STEP 4: Get your airing date for airplay to announce on social media.
 
Step 5: SEE YOURSELF PROMOTED ON SOCIAL AND HEAR YOUR MUSIC ON A.V.A LIVE RADIO. engagement and interactions are seen immediately upon first posting.
 
STEP 6: RECEIVE YOUR STAT REPORT link TO look at the exposure and discuss your future music marketing goals with an advisor so we can help you improve your social media impact and target marketing even more.