Music Master Package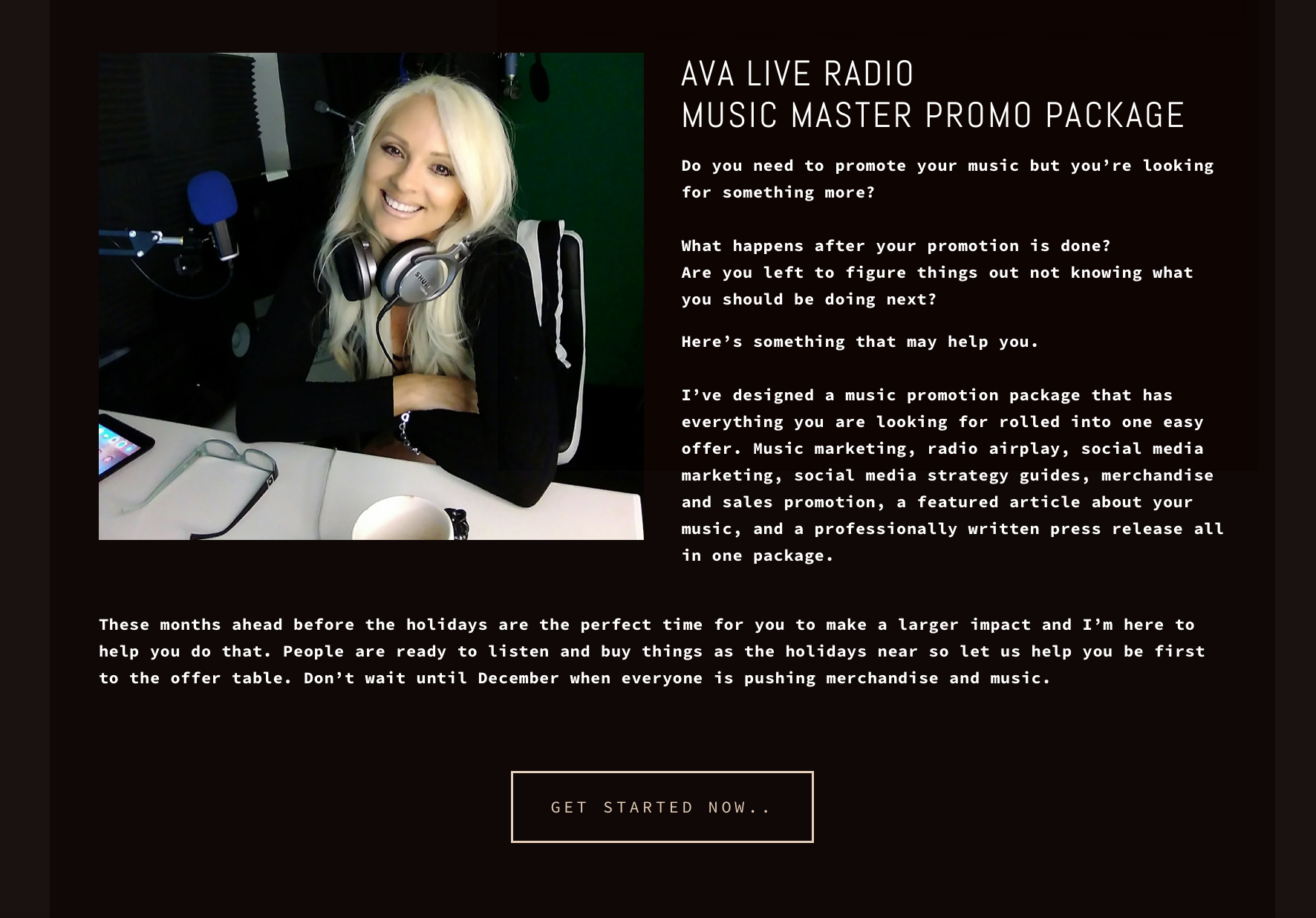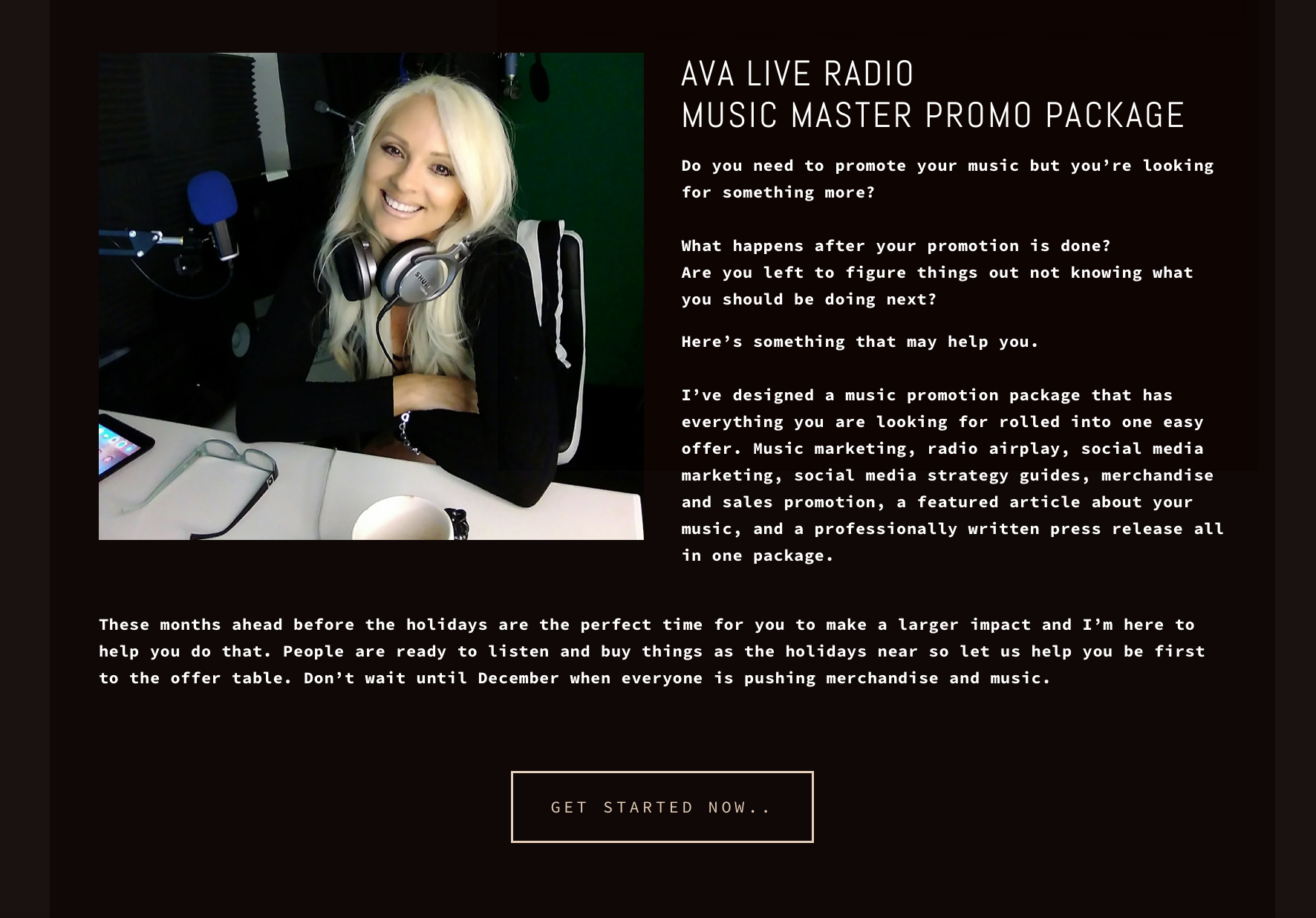 sale
Music Master Package
MUSIC MASTER PACKAGE:
ONE TIME PAYMENT : SPECIAL OFFER $99
Available until October 15th
Regular cost: $125
Do you need to promote your music but you're looking for something more?

What happens after your promotion is done?
Are you left to figure things out not knowing what you should be doing next?
Here's something that may help you.

I've designed a music promotion package that has everything you are looking for rolled into one easy offer. Music marketing, radio airplay, social media marketing, social media strategy guides, merchandise and sales promotion, a featured article about your music, and a professionally written press release all in one package. 
These months ahead before the holidays are the perfect time for you to make a larger impact and I'm here to help you do that. People are ready to listen and buy things as the holidays near so let us help you be first to the offer table. Don't wait until everyone is pushing merchandise and music using my strategy. Start doing it now.
* Exposure for your latest New Music Release on AVA Live Radio New Music Monday

* Also available on these players :
BTR, iTunes, Google play, Anchor fm, Amazon Alexa, Google Home, Apple CarPlay, Android Auto, Stitcher.
* Featured on the New Music Monday on AVA Live Radio
- A.V.A Live Radio website. Listed with image, bio and social media links on New Music Monday page. (560,000 music subscribers) This website currently has 3.9 million views a month.

* Press Release right from Indie Music Spin: Our mailed press releases includes more than 3,600 fm and college radio stations in larger markets, film makers, commercial advertising agencies, booking agents and music journal writers.

* Your Song placed on our Spotify Playlists in the top 10 spot added in niche genre rotation (your choice)
* Professional Digital Banner add created for you by our art department and circulated on Facebook, twitter, linkedin, Google plus and Instagram.
Artists Development advisor to analyze your social media pages and make sure you start posting with impact.

Social media push funnel
for 2 weeks + across twitter, facebook, tumblr, linkedin and instagram.


FACEBOOK MADE EASY FOR MUSICIANS GUIDE

Bring your page back to life and create a space you look forward to being on every day with a quick guide to help you create much more impactful posts.
- How to Get More Likes, Shares, and Clicks
- Most common mistakes and best practice guidelines for Facebook

- How to Maximize your News Feed real estate to beat the Facebook Edgerank Algorithm


HOW TO GET YOUR INSTAGRAM POSTS ON THE POPULAR PAGE GUIDE
A step by step guide to growing your instagram page and you'll learn the most important things you need to do to grow your instagram page quickly and also how to get your posts ranked on the popular pages of your niche.


TWITTER GUIDE TO HELP YOU DRIVE MORE TRAFFIC UTILIZING OUR TESTED STRATEGIES GUIDE
- Content strategy for Twitter

- Using Twitter Hashtags
- Improving your twitter call to action
- How to find your tribe on social media